Pay-Per-Click advertising (PPC) is essentially buying traffic to your website… Reach the audience you want, when you want, and often with the budget that you want.
Pay-Per-Click advertising (PPC) is essentially buying traffic to your website. You designate how much you will pay when someone clicks on your ad, your ads are displayed for free, and you only pay when your ad is clicked. When set up correctly Pay-Per-Click can be a very efficient marketing tool where the costs are usually negligible compared to the profits.
To properly use PPC you must first identify the key words that you want to target and then bid against competitors for how often your ad shows up when those key words are entered into the search engine. This is a quick and easy way to get your website to the very top of Google, Bing, or Yahoo.
One of the major advantages of PPC is that it is extremely customizable, allowing you to determine who sees your ads based on geography, the time of day or day of the week, their device (mobile or desktop), and other demographic options. You have a lot of control over who will see your ads as well as when and where they see them.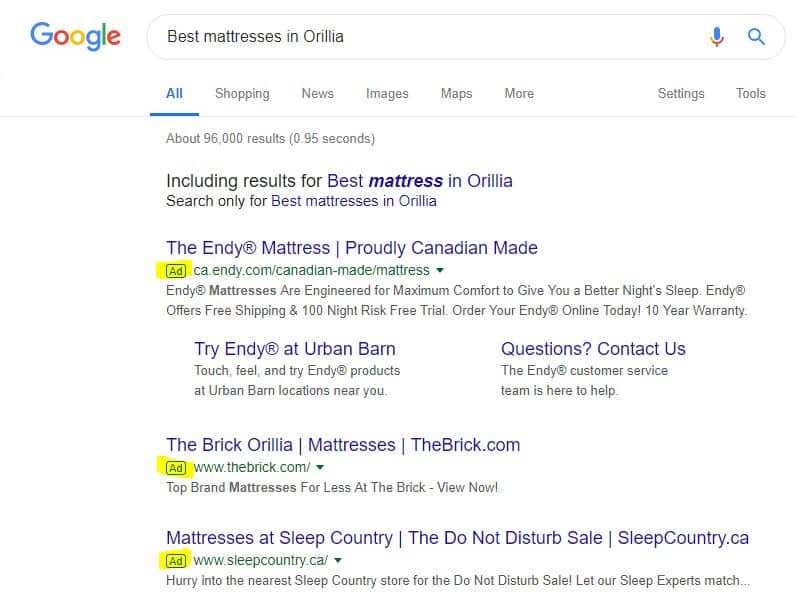 How is ROI measured?
There are three methods that can be used to measure your return on investment.
Return on Ad Spend (ROAS) is a simple calculation of PPC revenue minus PPC cost divided by cost. So if I spend $500 on PPC and the ads generate $5000 the ROI would be 1000%($5000 profit – $500 cost = $500) / $500 cost = 10 = 1000%
Return on Investment (ROI) is similar to ROAS except the cost takes into account more than how much you spend on PPC, it also factors in the costs of creating products, processing, returned goods, salaries, etc.)
Profit Per Impression and Profit Per Click take into account the effectiveness of your key words, getting ads in front of searchers, obtaining clicks at a good cost, and ultimately turning visitors into buyers. To calculate profit per impression you will take your profit (calculated using either ROAS or ROI methods) and divide that by the number of impressions. To calculate profit per click you do the same except divide by number of clicks. These metrics can better identify the efficiency of your ads.
The keys to getting the best ROI on Pay-Per-Click are:
Identifying strategic keywords
Creating a streamlined sales funnel for new customers to land in
Providing value for your customers at the end of the funnel
Timing when to start and stop the campaign
Who benefits from PPC?
Every type of business can benefit from using PPC, from small startups with limited resources to established mega-corporations and everything in between. PPC allows you to target specific demographics and offers comprehensive analytics to track your ROI in real time so that you can quickly see where your money has been going, which ads are most effective, and how much you are making per campaign.
PPC is ideally suited for the second and third steps of the Buyer's Journey (think and do). Any potential clients that already know about your product or service, or better yet, potential clients who are ready to purchase what you offer will be searching for it in search engines and your website / ad will be right at the top.
Image Source: www.Kaushik.net
Pros
Taps into a large body of people who are already searching for what you are offering
Target the specific demographics that matter most to your business
Extremely customizable to your unique business needs
Display ads for free, only pay when your ad gets clicked
Can access comprehensive analytics in real time
Efficient Return on Investment
Cons
Requires well thought out research into keywords
ROI partially dependent on bidding with your competition
Sources:
"3 Ways To Calculate PPC ROI" Search Engine Watch
"What Is PPC? Learn the Basics of Pay-Per-Click (PPC) Marketing" WordStream
"PPC Tutorial For Beginners | Introduction to Pay Per Click" Simplilearn
"What You Need To Know About Digital Ad Metrics And Attribution" Marketo