Interacting with potential customers in a natural and social environment
Social media is a powerful tool for networking, discussing ideas, and sharing interests with people all over the world. Social Media Marketing (SMM) leverages the power and connectivity of social media platforms to get your brand in front of and interact with potential and existing clients in a natural and social environment. This can happen either by generating and posting content for others to see, comment, share, and review or by using paid ads to get people to your website.
Keys to success in Social Media Marketing campaigns
Planning Your Content – Key word research, and creating posts in advance will ensure that you are sending the correct message and that you will never be scrambling for content.
Posting Quality Content – Posting content that is engaging, interesting, and relevant is extremely important as your client base will have little patience for click-bait, spam, or bland logo messages.
Posting Consistently – Staying on top of social media means posting often. This doesn't have to be full content articles but you do have to be actively, commenting, sharing, replying, linking, and tossing out a few inconsequential posts throughout the week.
Keyword Research – Just as in search engines social media platforms will pull up content for users based on keywords. Understanding what keywords relate to your business and how to implement them will increase the spread of your campaign.
Track Competitors – It's always important to keep an eye on competitors—they can provide valuable data for keyword research and other social media marketing insight. If your competitors are using a certain social media marketing channel or technique that seems to be working for them, considering doing the same thing, but do it better!
Measure Success with Analytics – Attaching tracking tags to your social media marketing campaigns will allow you to track the data through sites like Google Analytics to determine which strategies are most effective and which ones should be abandoned.
Crisis Management Policy – Things don't always go well for brands on social media. It's best to have a playbook in place so your employees know what to do if they have to deal with a mess.
How is ROI measured?
To track your return on investment you will need to first identify your monetary investment in social media, attach dollar values to your social media goals, and then look to the analytics data to see how often those goals are being met.
Here is a simple Example:
You decide to designate 20 hours a month to social media marketing at $15 an hour and put $200 into Facebook ads. This costs you $500 / month. ($15 x 20) + $200
Cost = $500
You decide that your goal for social media marketing are to have people click on a link that takes them to your home page.
You figure the lifetime value of a customer is $2000 and your conversion rate is 2.5% which means each person who clicks your link in social media is worth $50
Profit = [number of clicks x $50]
During your social media campaign you see that 48 people clicked on your social media links.
ROI = Income – Cost / Cost
ROI = ([$50 x 48 clicks] – 500) / 500
ROI = (2400 – 500) / 500
ROI = 1900 / 500
ROI = 3.8
Your return on investment for this campaign is 380%.
Who Benefits from Social Media Marketing
Social media campaigns tend to focus on the first and final steps of the Buyer's Journey (see and care). The nature of social media is such that putting your ads on platforms like Facebook gives you a lot of exposure which is great for getting your brand out in front of a lot of people to raise awareness, but when it comes to the second and third steps (think and do) prospective clients are more likely to look up your product / service in a search engine once they are interested to learn more or make a purchase.
The second strength of a social media presence is customer care. If your customers have questions or run into problems many will look to you on social media for help. If you can quickly assist them with a private chat or a tweet they will have a good experience and feel cared for which goes miles for customer retention and brand loyalty.
Small businesses benefit the most from a social media campaign but anyone who wants to increase awareness of their business and build into customer relations can benefit from social media marketing. Businesses that cater to niche markets in particular can benefit a lot from social media marketing as active pockets of like-minded persons tend to find each other, create groups, and share between each other on social media.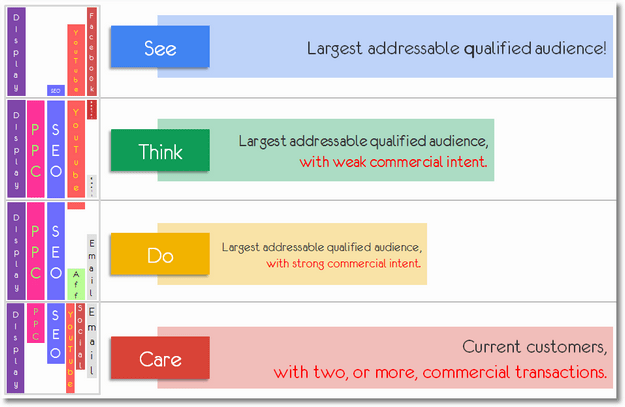 Pros
Puts your brand name where your demographic is hanging out online
Increases website traffic
Raises brand awareness
Humanizes your brand
Interact and converse with potential customers in a social and natural way
Generate 'earned media'
Potential for compound media exposure through sharing
Keep track of the competition
Cons
Requires consistent and quality content
Requires constant interaction
Potential for needing to manage social media crisis
A long term investment
Sources
Social Media Marketing for Businesses, Wordstream
10 Laws of Social Media Marketing, Entrepreneur
Social media in 2018: Time to grow up or get out, Marketing Land
20 Benefits of Social Media Marketing Every Business Should Know, CoSchedule Blog
The Delightfully Short Guide to Social Media ROI, Buffer Social
What Is Social Media Marketing?, Instapage