Search Ads, sometimes called paid search advertising, add your business's advertisements to a Google search, giving your business a supercharged boost on a search engine results page (SERP).
You can tell a paid ad by the little 'Ad' icon next to the ad when you do a Google search.
Paid ads can feature at the top or even bottom of a Google search page and are basically the way to pay to advance your Google ranking without ranking organically.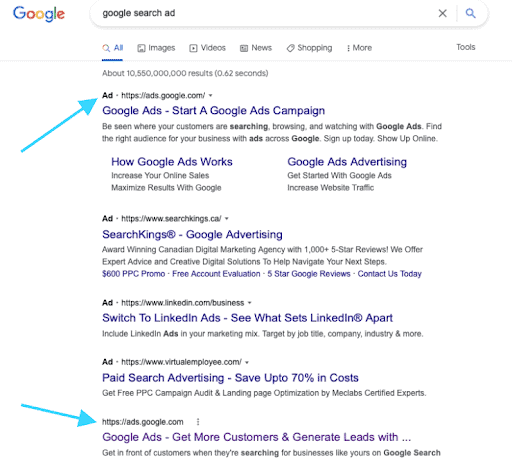 Working hard to get keywords ranking high through SEO and keyword research from your website can take some time, so paying to advertise through Google Ads can push your website higher and help to get your name out there.
Google's New Responsive Ads
Google has recently changed the format of their ads to be responsive. What does this mean? Previously when you created an ad, you would have approximately three static titles in order, and then you would add in your description and extensions etc.
Google has now made search ads responsive, in that you can add fifteen headlines and four descriptions into a single responsive search ad. While this might seem crazy, it's actually brilliant because the titles and descriptions rotate (unless you pin them), meaning more specific keywords related to your product are fueling the ad and making it more relevant to your customer.
This highlights the changes happening right across digital marketing in the way of personalization. Making Ads responsive means that you can add very specific keywords to your ads and hit your target more precisely. This means that you're not wasting your ad budget on broader searches that yield little results.
Another great thing about creating a Google Ad in the new format is that Google will guide you through your selection of titles and keywords and give you an Ad strength score on how relevant your ad is, based on your website and competitors.
Score strength ranges from poor through to excellent. You can continue to go into the ad after it's live, tweak the keywords, and improve the strength after seeing how the CTR (click-through rate) is going.
Google also gives you recommendations to improve your ad and helpful tips to increase conversions and your optimization score.
Sometimes, if you have a product or service that covers a lot of different topics or subjects, it can water down your message and confuse Google and your marketing efforts.
For example, Google Ads will rate an ad's strength based on the keywords used in the ad. Let's say you sell ice cream, but you also sell candy, gourmet donuts and popcorn. If you were to make an ad for chocolate ice cream, but then you also listed that you sell these other products like candy and donuts, Google could rate your ad poorly.
The result is that Google shows your ad to fewer people because it's vague and the search criteria is too broad.
Alternatively, if you make an ad selling ice cream and use keywords like – 'chocolate ice cream, rocky road ice cream, and ice cream cones' and keep the ad precisely about one thing, Google will rate your ad a lot better and promote it to more people.
Long-tail search words are keyword phrases with more than four words. For example -' what is the best ice cream near me?' Search engines have evolved to the point where they can handle your long keyword search and will give specific data based on the long phrase.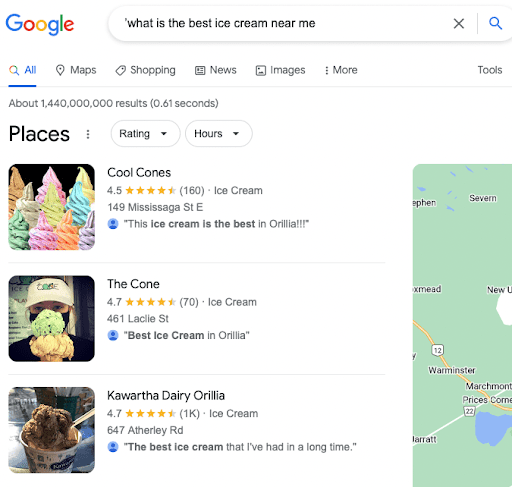 When you target the long-tail keyword we used before, – [what is the best ice cream near me], in your Ads or website copy, depending on the competition, you may rank on the first page of a search engine results page for this keyword phrase.
Adding this fuel to your search ad will help your Google ranking using a long-tail keyword.
Are You Ready To Fuel Your Google Ads
Using Google Search Ads to fuel your ads is an excellent use of your marketing budget.
Having a skilled team to research and find keywords your customers are searching for, develop an advertising campaign around that, and then set up your Ads for success, is a big key to more advertising success.
Fireside offers a service to research keywords around your business and set up Google Ad campaigns to increase your site's traffic.
Contact us today if you want help managing and supercharging your Google Search Ads.