When it comes to measuring digital marketing success, there are numerous KPIs and metrics available to you. From bounce rate, to page views there's data to give you an insight into every aspect of your digital marketing. However, the one metric that is consistently under used is Goal Value.
Here we will explain Goal Value, its importance to your digital marketing, and how you can use the data effectively to map out your strategy.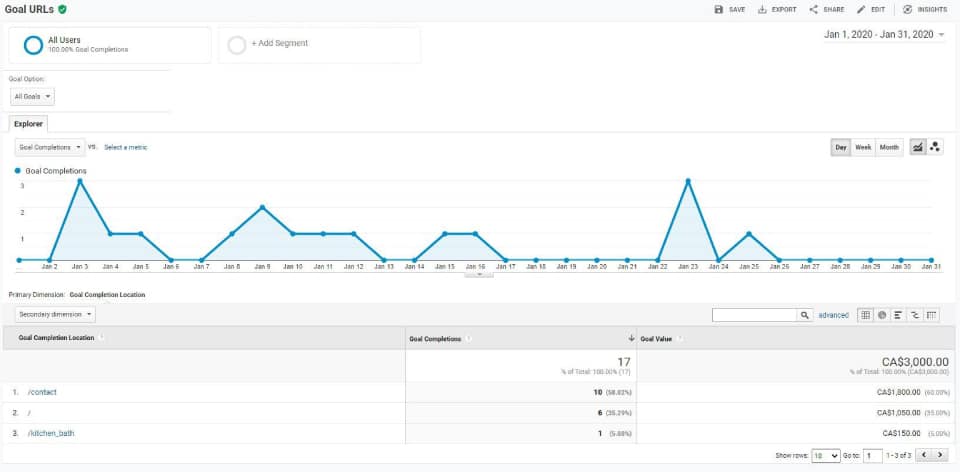 Goal Value is a metric that represents the dollar value that is assigned upon completion of a goal, within Google Analytics. As marketers, we should be able to place an ROI on almost everything we do. When you have a dollar amount associated with your goals, you're able to tell a more effective and useful story from your data, in relation to your business goals.
By taking the time to add values to your goals, you can measure it against all other metrics. The process of setting up Goal Value is simple. Under Goal Details, you can create your business goals, and assign each one a value. Once you complete a goal, you need to pull the data together and calculate the value.
HOW DO YOU CALCULATE GOAL VALUE?

The first thing to note before you get started with Goal Value, is that you need your conversion metrics ready. If these are non-existent, your first priority should be to calculate your conversion rates, in order to return to your Goal Value. Additionally, it is also important to understand your Lifetime Value (LTV), where you use data to understand the value of certain customers based on their lifetime performance.
Starting with an extremely simple example; If you run an eCommerce website, an obvious goal completion would be a sale. In this case, the goal value would be the price of the item sold. So, if you sell a $10 t-shirt, your conversion value is $10.
Goal Value becomes more complicated when your goals relate to actions that do not directly affect ROI. For example, if you have a lead generation website, one of your goals may be to fill out a contact form. While filling out the form doesn't directly generate revenue, it is a direct step in the process. Therefore, if the data shows that a lead is accepted 50% of the time, and leads drive an average LTV (Lifetime Value) of $100, you would assign a value of $50 to that goal.
If you find yourself really struggling to figure out a dollar amount for your website goals, you can always use the method of assigning value by importance. For example, if one goal on your website is twice as important as another, assign that goal a value of 2, and the latter a value of 1. While this of course won't be a direct measure of revenue, it is taking into consideration which goals are more important in ultimately driving revenue for your business, in turn giving you a simple, but still measurable Goal Value.
WHAT CAN YOU LEARN FROM GOAL VALUE?

Page Value is the measure of how much a page is driving revenue. This is calculated automatically by Google Analytics, based on how close each page is meeting your conversion goal. The main factor that comes into play with this value, is the number of page views. Due to this, often a checkout page will have a higher value than the home page (particularly on an eCommerce site).
You can look at this data in three ways, depending on your overall business and marketing goals. The first is to sort Page View by default; by tracking page value over time, you can perform conversion optimization that can then have a major impact on ROI.
Secondly, you can sort by highest to lowest; here, you can look at the highest converting and see what you can mimic on those pages to others, then focus on those that are just below, and see what opportunities you can take to drive more traffic to them.
Finally, sort lowest to highest; some pages won't be directed towards your ROI, instead focus on the ones just above that, and see what can be optimised on those pages topush conversions.
If you don't take the time to fully understand the data, paid advertising can result in more money spent than earned. While it is easy to see the number of clicks or conversions, it is much more useful to understand the revenue being returned by Pay Per Click advertising (PPC).
You can attribute actual and/or estimated revenue to each PPC campaign by looking at your campaign reports. Here you are able to analyse the Ad data, and see which campaigns are having a genuinely positive effect on ROI. Ad's which have a high click rate, but low conversion rate are the campaigns that need particular attention.
Understanding when and where to spend your time and money is the basis of any successful marketing strategy. By looking at the reports generated for acquisition channels, you can see exactly how each channel is contributing to your ROI. From here you can push channels that are driving value, as well as optimise those that are not as successful.
There are numerous ways that Goal Value can be used in data reporting, not just the three detailed above. Unlike other metrics, Goal Value is a direct measure of how each aspect of your strategy is directly affecting ROI. In turn helping you to streamline and optimise your overall marketing strategy.